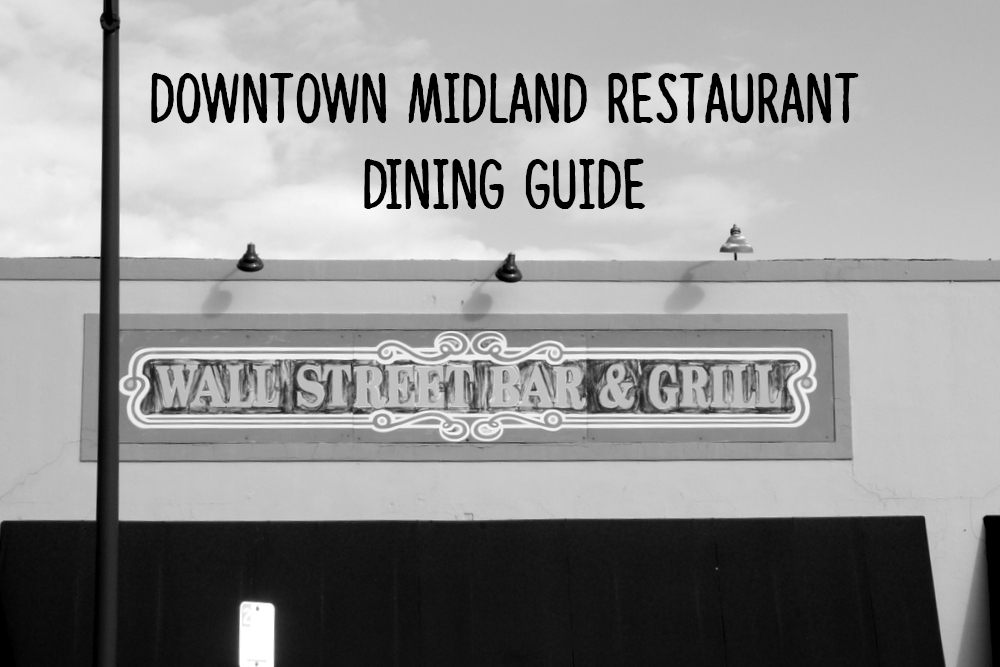 I want to remind everyone to eat local, with the recent oil price downturn, Pioneer moving its office to Clay Desta, and Concho Resources opening an employee only cafeteria. It is having an effect on our downtown businesses. There are several great places to eat all within walking distance of the main office buildings. The 15 places mentioned here offer a variety of different types of food.
Try Kafe Kapanna for homemade soup and sandwiches, modern atmosphere and upscale lunch dinning at [email protected],  step back in time at Luigi's, go for something different at The Burrito Dude, mingle with the locals at Jo Jo's, call in your order at the Tex-Mex Cafe, impress your clients at the Cancun Grill, take in The Bar and all its wonderful glory, try something new at Granado's Cafe, , fork over some spicy Cajun favorites at Rue 432, slip into Eatery 117 for West Texas high class fair, close you next business deal at Wall Street Bar & Grill,  stay on track with these healthy vending machines, close it all down at Wich Wich Sandwiches.
First please note during the school year, the high school students from Midland High get out around 11:30 and they swarm to these type places. As shown in the map below, they cross A Street and head down Illinois and fill up places like the Tex-Mex Café or Kafe Kapanna. My advice phone in your order before 11:30, because these places get too busy and probably won't even pick up the phone.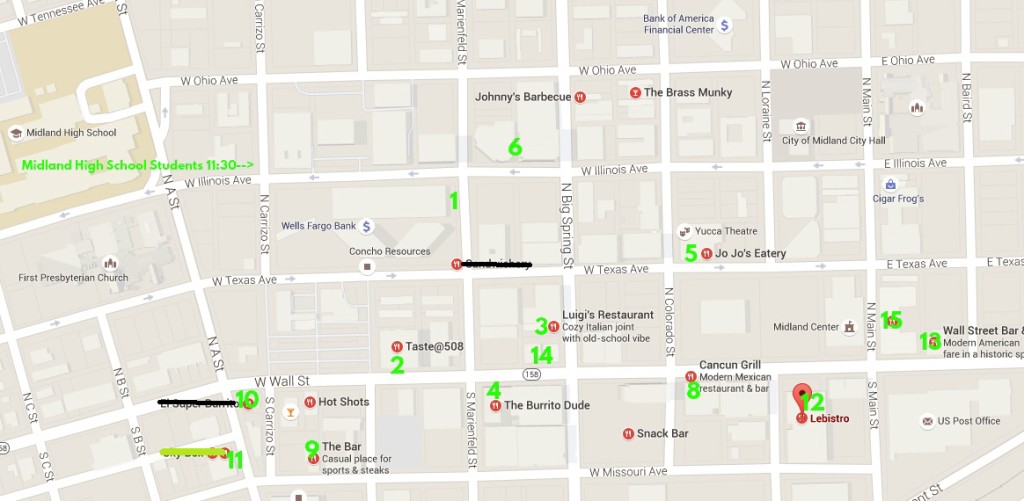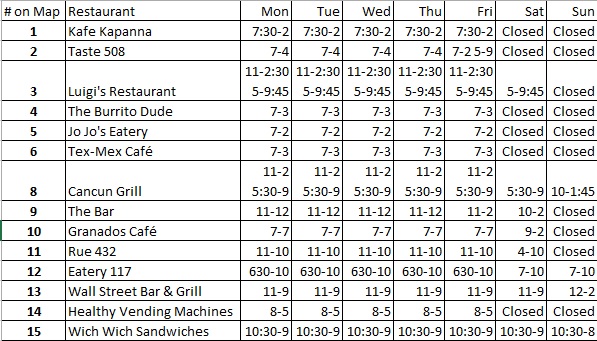 Kafe Kapanna (Formerly the "Sandwichery")
(View Menu Here) 432-684-4791
200 N Marienfeld St, Midland, TX 79701
This fine little Café is located in the bottom of the Fasken Center, on the far East side, you can enter on Marienfield Street between Illinois and Texas. Two or three very nice ladies run it; they have a small salad bar, soup, and varying daily specials. The specials run the gambit between items such as Lasagna, Enchiladas, and Pulled Pork sandwiches.  They will also make you just about any kind of sandwich you want. They open at 7:30 and serve breakfast sandwiches, along with muffins, fruit and other breakfast type items.
---
Taste 508 (Formerly "Matteos")
(View Menu Here) 432-687-1755
508 W Wall St, Midland, TX 79701
Ran by Midland Chef Timm Rogers, Taste 508 is a quaint café in the bottom of the Frost Tower. The entrance is located on Wall Street across the street from Prosperity Bank.  It is decorated in a very minimalist, rustic fashion, and serves up breakfast sandwiches all day. They also have a rotating sandwich daily special. Timm has a very user friendly website, and even lets you order food from the Taste 508 iphone app. That is definitely high tech for Downtown Midland.  He also serves a variety of coffee and hot tea.
---
Luigi's Restaurant
(View Menu Here) (432) 683-6363
111 N Big Spring St, Midland, TX 79701
The only place to get good Italian food downtown, or maybe in all of Midland. Headed by a great GM, they are carrying on the tradition. It's a classic white table cloth, candle on the table kind of place. They have a great selection of wine, and a nice bar to the right when you walk in. I have never gotten a bad meal here. Come by and visit today.
---
The Burrito Dude
(View Menu Here) (806) 632-8365
415 W Wall St #104, Midland, TX 79701
Not much is known about the elusive Burrito Dude. His Café Petite is in the bottom of the Wilco Building. He serves up Breakfast and Lunch Burritos, Sandwiches, Salads, and Pastries baked daily. He also has catering available.
---
Jo Jo's Eatery
(View Menu Here) (423)-682-313
214 W Texas Ave # 121, Midland, TX 79701
Jo Jo's is located at the bottom of the Petroleum Building, right next to the Yucca Theater. It is a classic Midland place, with homemade soups and sandwiches. Get a tasty chicken salad or pimiento cheese sandwich. Great breakfast Burritos! (The best in town!!) One of my favorites.
---
Tex-Mex Café (Formerly "Jaslicos")
(View Menu Here) 432-683-3360
400 W Illinois Ave # 195, Midland, TX 79701
The Tex-Mex Café is located at the bottom of the West Texas National Bank building. They serve up delicious Mexican and American favorites. I like their French fries!
---
Cancun Grill
(View Menu Here) (432) 618-0390
223 W Wall St #121, Midland, TX 79701
Is another Midland Staple. A bit of high end in our little town. They proudly serve Wagyu steaks from The Midland Meat Company. Everything on the menu is amazing. The place is always packed on the weekends. I like Cancun Bistro, I always say I am going to try something different, but I rarely switch.
---
The Bar
(View Menu Here) (432) 685-1757
606 W Missouri Ave, Midland, TX 79701
Everybody loves the bar, always a lively crowd. Perfect for lunch and great for dinner. Live Music on the weekends and Brunch on Saturday. Try the chicken fried steak, probably one of the best in West Texas. They have plenty of outdoor seating on their patio.
---
Granado's Cafe & Catering (Formerly El Super Burrito)
(View Menu Here) (432) 698-3238
703 W Wall ST, Midland, TX 79701
Grandado's is a newcomer to downtown Midland. They have an interesting menu of American and Tex-Mex favorite. The burgers look awesome. They have Nachos, Bacon wrapped jalapenos, Flautas, Fajitas, and Enchiladas. Eat Local come by and try something new today, in the Old El Super Burrito building, right behind the Lone Star Bar.
---
Rue 432 (Formerly Gritos Smokehouse & Tejano Saloon)
(View Menu Here) (432) 218-7542
106 S A St, Midland, TX 79701
Rue 432 has been a multitude of different places. From bars, clubs to restaurants, seems like the sign is always changing. I walked in the other day, to a really nice looking restaurant. The reviews are coming back positive, so maybe we have a winner. They have a menu full of unique Cajun dishes. If you are looking for something different, give Rue a try.
---
Eatery 117
(View Menu Here) (432) 683-6131
Doubletree by Hilton Midland Plaza
Eatery 117 sits inside the DoubleTree at 117 W Wall St, Midland, TX 79701. Right across the street from the Midland Center. Their menu has a nice variety of salads, burgers, sandwiches, and heavier items like pork chops and filets. Try this as a classier option for you next lunch date
---
Wall Street Bar & Grill
(View Menu Here) (432) 684-8686
115 E Wall St, Midland, TX 79701
The true "Midland Classic" restaurant. I always feel like I just took a step back in time when I walk in here. I wonder some of the deals that have been laid out on these old tables. The wood bar serves up classic cocktails. The favorite among locals is the chicken fried steak, it is the cheapest thing on the menu. I think they keep that way, so even when the broke wildcatters want to go out to eat, they can afford a night at Wall Street, and feel like kings for a few minutes.
---
Healthy Vending Machines
First Capital Bank Building
Big Spring and Wall Street
In the First Capital Bank Building at 310 W Wall STE 100, Midland, TX 79701, there is a self serve set of vending machines. They serve sandwiches and a variety of other options. Most people don't know about them, but if you are looking for something different, why not give it a try.
---
Wich Wich Sandwiches
(View Menu Here) (432) 247-5617
100 N Main St #400, Midland, TX 79701
A national sandwich chain located at the bottom of the Wall Street Lofts. They serve up a variety of inventive sandwiches. I like Elvis, Peanut Butter, Jelly, Banana, and Honey. A meal fit for a King! This is probably our only chain restaurant in downtown Midland. Which can be a good or a bad thing, depending on how you look at it.
---